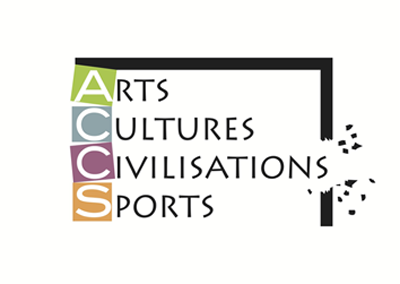 Our logo
ACCS' logo designed by Sabrina Toulon, young french artist designer,
evokes a wall that breaks due to the force of  ACCS 's action.
This wall is the wall of ignorance, intolerance,
misunderstanding between cultures and peoples.
Sabrina also imagined acronym of  "Arts, Cultures, Civilizations and
Sports" by modifying it slightly. So it becomes ACC&S (pronounced
"ACCESS") the possible "access" to culture and friendship among peoples by breaking the walls of prejudices.
Our website
The name " Ethno -sport" was chosen by Luc Tessier,
cinematographic events organizer to replace "Arts, Culture,
Sports & Civilizations " too long on search engines, due to the fact that the
first event organized by the association was a film festival
about people and cultural minorities participating to the
VIVA World Cup in Iraqi Kurdistan .
The site was created with the help and invaluable support of  Trinity
Advise , E -business consultant